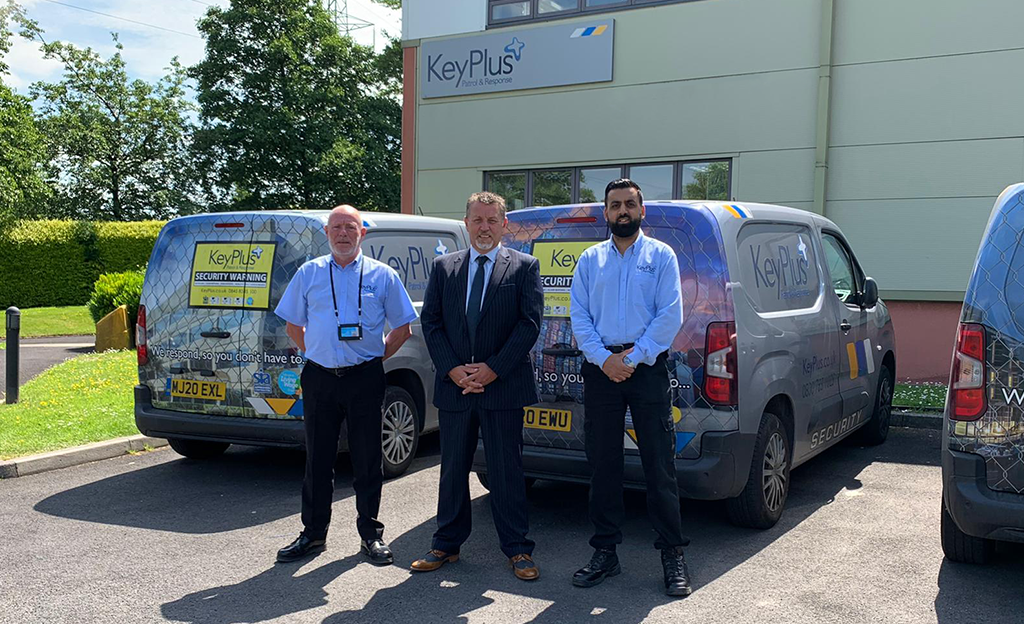 Pictured: Neil Windsor, Managing Director (centre) with Ronnie Lyne (left) and Adeel Shafiq (right), Mobile Response Supervisors
It's been over a decade since KeyPlus was founded, and during that time, the company has grown from strength to strength. Protecting 1,100 premises across the North West, KeyPlus performed 18,000 patrol visits and responded to 5,500 alarm activations in the last year alone. Providing high quality key holding, alarm response and mobile patrol services, the Security Industry Authority Approved Contractor has certainly made its mark on the sector. 
Now in its 13th year, the company continues to evolve, meeting ambitious growth plans and making changes to its senior management structure. 
Neil Windsor, Operations Director, has been promoted to Managing Director, whilst founder and former Managing Director, Brian Curran, moves to the role of Chief Executive. A natural progression for the pair as the business continues to grow, the changes reflect the ambition of the Burnley-based company, paving the way for continued success.
Neil joined the business in 2018, bringing 25 years of industry experience with him, having held senior positions at a range of security companies over the course of his career. 
"Quality and customer satisfaction are at the heart of everything we do, and we've worked hard over the years to not only achieve Approved Contractor status, but to gain ISO accreditations for our commitment to quality, the environment and health and safety" said Brian Curran, sharing the news of the changes.
"Neil has been a fantastic addition to the team, bringing extensive management and security experience with him from the positions he's held within the industry. He shares the same passion for delivering the best service possible and will continue to develop and execute the business strategy for KeyPlus, whilst leading the company in continued growth." 
"I'm delighted to move into the role of Managing Director" Neil commented. "We have a great team behind us and the technology used within the company is the best I've ever seen. We genuinely care about our customers and employees and are continually improving to ensure we deliver the very best for both.
"As a Living Wage employer I'm excited to watch the team grow and delighted to announce that our plans include recruiting 10 more Mobile Response Officers. 
"I look forward to driving further growth within Lancashire, across the North West and welcoming new team members on board." 
Find out more about how KeyPlus can support your business on our 'Services' page or, to speak to a member of the team, call us on 0800 783 1025.