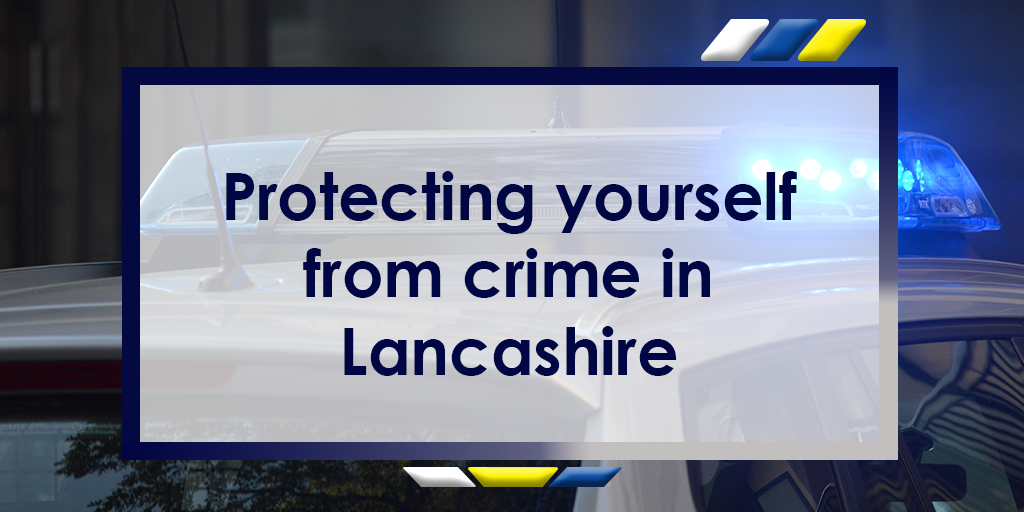 We've all seen figures stating that crime is on the rise and with news reports and social media posts about thefts, fraud and more on a daily basis, it's no wonder we're all becoming more safety conscious. But what does crime in Lancashire really look like and how can you protect yourself against it?
Crime in Lancashire – the facts
According to the 2018/2019 Crime Survey for England & Wales, published by the Office for National Statistics, crime in Lancashire makes up 21.6% of crime in the North West and 3.1% of all recorded crimes in England and Wales.
With 110.9 offences per 1,000 people, Lancashire has the 2nd highest crime rate in the region, ranking above Merseyside (95.3) and below Greater Manchester (119.2). 
In the 12 months to March 2019, 87% of all recorded crime in Lancashire was victim-based, with violence against a person and theft offences the most common types recorded. Theft from a person increased by 24% and robbery increased by 21%, higher than the national average of 5% and 11% respectively. 
The survey reported that the areas with the highest crime rates in Lancashire were Blackpool (197), Burnley (138), Preston (127), Blackburn with Darwen (120) and Hyndburn (119) with the Ribble Valley experiencing the lowest rate of crime (53). 
How can you protect yourself?
Remembering the security basics is essential whether you're at work or at home. Locking doors and windows, using your alarm and keeping valuables out of sight all go a long way in protecting your property and belongings. But if you'd like to add extra security measures to your property, consider using a security provider like KeyPlus. We offer a range of services from mobile patrols to alarm and home response. 
Mobile patrols are randomly timed internal and external foot patrols designed to deter would-be criminals by providing a high-visibility security presence at your place of work. Coupled with our alarm response service, where our professional Patrol & Response Officers respond to alarm activations on your behalf, and your business security will become one less thing to worry about. 
For home owners, our home response service covers a range of needs. From alarm response and home checks to neighbourhood patrols, we offer a top quality service that represents great value for money, giving you extra peace of mind whether you're at home or away. 
Find out more about our services by calling 0800 783 1025 or fill in your details here for a free, no-obligation quote.