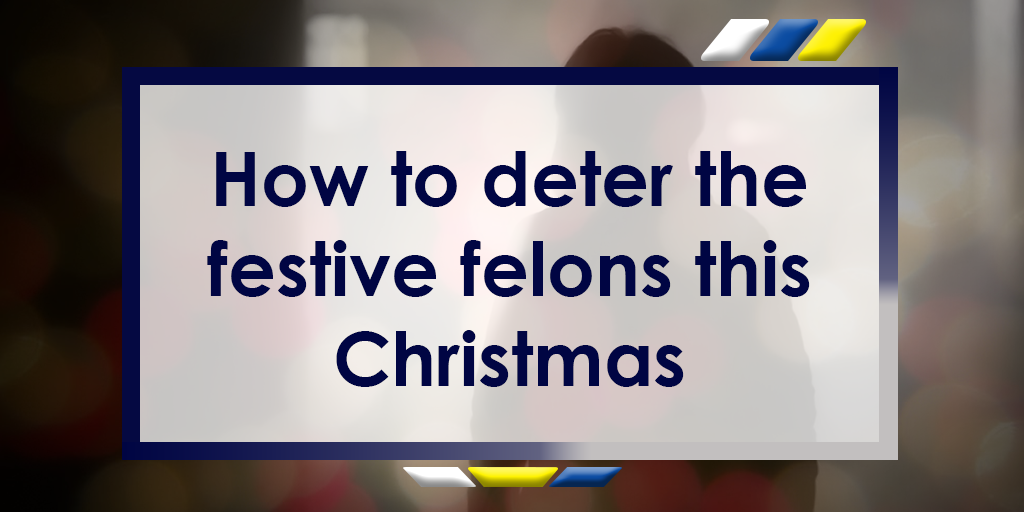 Avoid the festive felons
Analysis of crime statistics from the financial year 2016/2017 has revealed that the number of robberies, burglaries and thefts committed over the Christmas holidays are soaring. Each day of the two-week festive period, festive felons committed on average 448 burglaries, 65 robberies and 1,082 thefts – an increase of over 20% from the previous year.
Combined with a survey by the independent police watchdog which revealed that half of the public have not seen a single policeman on patrol in their neighbourhood over the past year, it's no surprise that career criminals are taking advantage of this lucrative time of year.
How can I keep my home safe from festive felons this Christmas?
There are some simple security tips you should always follow, no matter what time of year it is:
Keep your doors and windows locked at all times
Set your burglar alarm and make sure it's in good working order
Leave a light on if you're out of the house or away from home
Never leave gifts or valuables on show in your home or your car
Dispose of any boxes which allude to new purchases carefully
How can I protect my business this Christmas?
One of the best things you can do as a business owner is appoint a reliable security service provider. As a Security Industry Authority (SIA) approved contractor, we take great pride in the high level of service we provide.
A great way to deter would-be criminals this Christmas is with our mobile patrol service. At a fraction of the price of a static guard, we provide randomly timed internal and external foot patrols to virtually any type of premises. From warehouses to depots, shops to office buildings, having a presence at your property is often the best way to ensure it does not become a target.
Why KeyPlus?
All our foot patrol visits are recorded in compliance with the requirements of BS7499 (the British Standard for static site guarding and mobile patrol services) and electronically monitored to provide you with confirmation of the protection your business is receiving.
Any incidents or faults found whilst out on patrol are documented and emailed to you the following working day. Should the incident require immediate action, our professional Patrol and Response Officers will contact your named key holder to notify them, assisting in the subsequent follow up action to ensure your premises are safe and secure.
Protect your business this Christmas. Call 0800 783 1025 or fill in your details here for a no-obligation quote.