Lancashire patrol, alarm response and key holding specialist KeyPlus Security, have been appointed Security Response providers for Business First business centres across Lancashire.
The latest appointment at the Blackpool Business First centre, brings the number of sites covered to five and comes on the back of a successful 2 year growing partnership.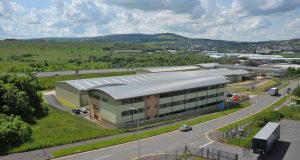 With over 500 businesses utilising Business First fully serviced centres, security for their tenants and staff has always been a priority.
Sarah Fretwell, Business First Director said "We have over 500 tenants with 2000+ employees and hundreds of visitors coming in and out of our business centres every month."
"Our tenants have 24/7 access which means our security arrangements are complicated and bespoke to each centre."
"The Blackpool centre is growing and we are welcoming more local businesses that operate within their own business hours. This means we  need to continually review our security arrangements."
The danger of sending employees to triggered alarms
Sarah added "We realised the personal danger our centre managers can be exposed to should they have to attend an alarm activation phone call during the night, or in bad weather".
"As a responsible employer, we believe this task should be carried out by trained specialists. We found KeyPlus as an SIA approved contractor and they have proved to us they are the specialists in Lancashire."
"KeyPlus have gone out of their way to understand our requirements and have provided us with a tailored Key Holding and Alarm Response service."
Brian Curran, Managing Director at KeyPlus explained. "Business First is a unique model as their 24/7 tenant access means there is activity both inside the main building and external perimeters at all times".
"We are delighted Sarah and Business First have identified safety has to be considered for both their tenants, and their own centre manager employees."
"Using a specialist alarm response and key holder service, means there is no pressure or danger placed on their centre managers should a situation be triggered at any time day or night, during the week or at weekends."
Alarm Response and Key Holder Security Across Lancashire
"Expanding our services from the current Business First East Lancashire business centres,  works in parallel with our recent expansion plans.
"KeyPlus now provides services across Lancashire to businesses across central Lancashire and into the Fylde area."
To find out more about business security services including Key Holding, Alarm Response or Void Property Inspections, you can contact KeyPlus on 0800 783 1025
---
About Business First
Business First provide professionally managed and maintained luxurious, premium office space for local businesses. They have 11 business centres across the UK with 2 more being built in 2017 and support businesses of all sizes across a range of sectors. See more at https://www.businessfirst.co.uk/
About KeyPlus Security Ltd
KeyPlus provides professional security services, including key holding, alarm response and mobile patrols for commercial, industrial and public sector premises along with residential properties. KeyPlus take care of your security needs with a 24-hour, 365 days a year service. Find out more at http://www.KeyPlus.co.uk
About the SIA Approved Contractor Scheme
The Private Security Industry Act 2001 requires the SIA to establish a "system of inspection for providers of security services, under which those organisations who satisfactorily meet the agreed standards may be registered as approved, and may advertise themselves as such". Find out more at http://www.sia.homeoffice.gov.uk/Pages/acs-intro.aspx